Management for your wind farm
Operational management –
Transparent and efficient
With 20 years of experience and 18 employees, our operational management team maximises the energy-based availability of your wind farm, ensuring reliable yields.
We currently manage, both technically and commercially, a portfolio with a total output of 1.3 GW – from institutional investors and investment companies but also from civil society energy projects, municipal utilities and energy suppliers.
A crucial factor for the economic success of your wind farm is perfect coordination right from the start: from foresighted operational management and regular maintenance and inspections, to round-the-clock remote monitoring. In this way, downtime is kept to a minimum. On your behalf, we will also keep an eye on the deadlines for all necessary inspections, e.g. recurring audits, DGUV V3 inspections and pressure vessel testing. You can rest assured that with us as your operator you will not miss any key dates.
BASE, PLUS or additional modules: The right concept for everyone
Extreme mechanical loads combined with long operating times place high demands on the operational management of wind farms. And yet every wind farm is an individual technical system. That's why we offer you maximum flexibility with our modular technical and commercial management services. In addition to the BASE and PLUS modules, we offer a wide range of individual services to suit your specific needs. We will be happy to advise you personally and find the right solution for you.
Scope of services: Wind farm technical management
Scope of services
BASE

PLUS

24/7 monitoring and documentation
24/7 system monitoring
System set-up, SCADA data service and WIS2Go app
Fault management
Regular reports
Documentation in maintenance history records
Wind farm operation
Responsibility for operator's obligations
Grid management
Energy billing and auditing
Feed-in and load management
Direct marketing
On-site assistance
Scheduled maintenance organisation
Unscheduled maintenance
Monitoring of maintenance and inspections
On-site inspections
Landscaping, winter road clearance, on-site attendant
Support
Support with warranty claims
Support with approval requirements
Additional module
on request
Monitoring compensation and substitution measures
Additional module
on request
Insurance handling
Public registers
Additional module
on request

"VSB is providing a completely reliable support for the KommunalPartner wind turbines and constantly optimizes operation. I especially appreciate the fact that VSB thinks outside the box, provides consistent informationand ensures the highest level of trust with the operator."
Julian Klett, Projektleiter, Stadtwerke Tübingen

Our services in detail
On-demand night-time marking: Ask the experts
We will support you in the implementation of your night-time marking solution. When reviewing your individual situation, we will consider in detail the local factors and requirements: from technical inspection, e.g. of existing interfaces, to the clarification of permit requirements, we will take a close look at all points. We then research relevant providers for your site and move into the technical planning stage. On your behalf, we evaluate offers in terms of investment and operating costs, scope of services, and risk. This includes assessing the possibility of exemption from the retrofitting obligation on grounds of economic unreasonableness. We provide answers to questions like: Does my wind farm meet the technical requirements? Can or must we include neighbouring wind farms for an active or passive radar system? Do necessary adjustments to the BImSchG permit have to be taken into account during implementation?
In addition to options and recommendations for action, we also prepare the exact time schedule of the project, including the approval process. Would you like us to manage and implement the project for you completely? From the financial plan to installation, we are happy to assume responsibility for your wind farm's on-demand night-time marking.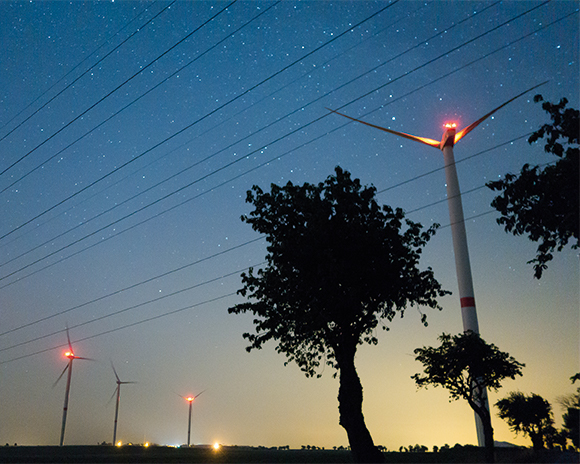 Background: What is on-demand night-time marking (BNK) and what options are there?