Professionals and Executives
There are numerous opportunities to join us. Which one is the best for you?
VSB is successful in Germany as well as in Europe. We are proud of that, and we are looking forward to the future we are helping to shape – together with our employees, who play a decisive part in our business success. Because most of all, it is their innovative spirit, qualification and satisfaction that make VSB strong.
Would you also like to join our team and promote renewable energy internationally? In that case, you can look forward to challenges that will test your talent and spirit of discovery. Find out about the various entry options at VSB. We look forward to meeting you.
Eric Müller - Team leader in planning
After successfully completing his master's in Spatial Development and Natural Resource Management, Eric Müller became an integral part of the VSB planning team. In addition to licensing requirements, his area of responsibility includes planning wind farm layouts and system expansion in cooperation with other departments. Today, he works as a team leader in planning at the head office in Dresden.
Eric, what to do love so much about your work?
The work-life balance is a central issue for VSB. Which provisions do you profit from the most?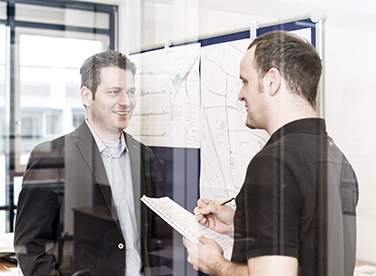 Corinna Funke - Marketing Specialist Graphic and Events
Corinna Funke applied for a job at VSB at the recommendation of a former colleague. These days she manages national and international events as a marketing specialist graphic and design, and develops advertising media and print products for the Group.
VSB supports the continuing education of every single employee. In what shape or form have you been able to benefit from this?
What positive experiences do you associate with VSB?
What do you particularly enjoy about your work at VSB?
What do you do in your time off?