Thuringia: Committed to renewables
The Thuringian state government has set itself the ambitious goal of completely meeting the state's energy needs with a mix of 100 per cent renewable energy by 2040. Transforming Thuringia's energy system into one that is completely self-sufficient will therefore be of fundamental importance in the coming years and decades, because one thing is already clear today: the nearly 860 wind turbines that exist at present will not be enough. On the contrary, the expansion of renewable energies needs to be driven forward in the long term.
Thuringia is ideally placed to achieve this. Although the potential varies in Thuringia's individual planning regions, it is still huge by national standards.
The Onshore Wind Energy Act and the Thuringian State Development Programme (LEP) stipulate that 1.8 % of the total area must be designated for wind energy by 2027, and as much as 2.2 % by 2032. There will also be increased support for the expansion of photovoltaics, the use of biomass and innovative integrated energy solutions. Many years of expertise, a strong understanding of quality and a passion for renewable energy are the core competencies of VSB, which together contribute to the successful implementation of Thuringia's energy transition.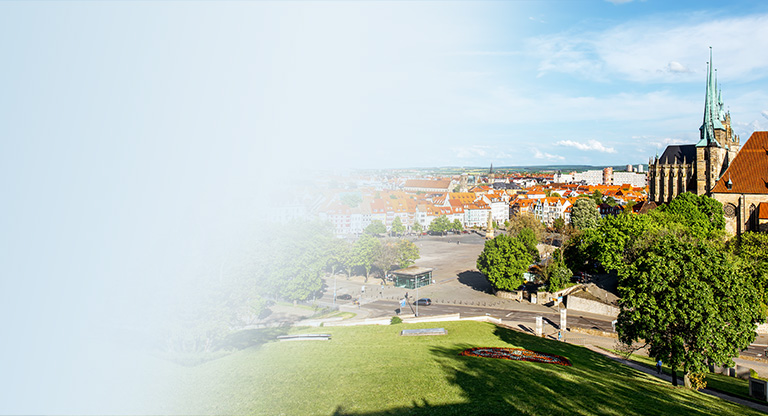 Experienced and well connected: VSB in Erfurt
We have already proven several times that VSB has got what it takes: many of our renewable energy projects have already been successfully connected to the grid. In addition, the new onshore potential means that the current project pipeline is more than full. And so our mission is clear: as a pioneer, we will actively shape the regional energy transition in Thuringia.
The basis for the success of our project plans is our trustful and cooperative teamwork with municipalities, citizens, energy suppliers, cooperatives, local companies, farmers and foresters, investors and our close ties with the Thuringian Renewable Energy Network (ThEEN) and the state energy agency ThEGA.
To achieve this, we work strictly according to the guidelines of the "Fair developer" label – a well-known seal of approval that we not only carry, but also live by. In this way, we develop customised and site-specific energy and participation concepts that are perfectly tailored to the individual needs of all project partners.
Broad local and societal acceptance is one of the most important key factors for the increased expansion of renewable energy in general. This is why it is a matter of course for us that the added value of each project is concentrated locally. It is only in this way that the transition to clean energy as a whole will get the tailwind it needs to be a success.
The VSB team in Erfurt is led by Office Manager Sonja Gonschorek. Her professional heart has been beating for wind energy project planning in Thuringia since 2014. During this time, she has not only acquired a valuable wealth of knowledge and experience, but has also established excellent networks with the relevant stakeholders.
Added value from day one with VSB
Local authorities have an important role to play in ensuring the success of the energy transition, for it is their job to designate sufficient areas for the construction of new wind turbines in their land-use plans. But there are great rewards to be had, because this generates enticing value chains in the immediate vicinity.
Would you like to find out more? Then please don't hesitate to drop us a line. We look forward to hearing from you!
Or are you a landowner? Then we could be precisely what you're looking for. You'll find more information here, and you can even have your land checked by us online – with no obligation.